The best hand tiller is must-have equipment, in either case, to work efficiently on tilled soil. Do you enjoy gardening? Or perhaps you've always fantasized about it and want to make it a reality? Well, then, you must learn about this wonderful tool.
A hand tiller is one of the most important garden tools you can own. It can be used to remove undesirable sprouts, simply loosen soil before planting, and aerate the hard-packed soils. To create a beautiful garden, you'll need this handy and compact garden tool. However, because there are so many alternatives, it can be tough to choose the most suitable hand tiller for you.
We've put together a detailed list of the top-rated hand tillers on the market (along with reader-supported reviews), as well as a complete buying guide that will give you all the information you need. Finally, we will answer some of the most frequently asked questions about hand tillers by gardening enthusiasts worldwide.
Let's dig in!
Best Hand Tiller Reviewed: Our Top Picks
Most gardens necessitate some soil preparation every growing season, which includes turning the soil using a tiller or cultivator of some form. If your garden isn't too large, the top hand tiller will suffice to till the soil for planting.
Let's glance through our top picks for the title of the greatest hand tiller on the market today.
One of the finest long handled tillers on the market is the Fiskars Telescoping Rotary Cultivator, and for a good reason. It tills the land with a revolutionary blade mechanism that requires much less effort. It can be used for loosening the soil, aerating soil, removing weeds, and mixing mulch.
Six spiky wheels are mounted on the tilling head of this long-handled tiller. Each wheel has six arrow tipped tines that dig deep into the tough soil as they move, mixing it up. Because the aluminum structure of this long-handled tiller is rust proof, you won't have to worry about it getting wet, unlike many other models.
Another benefit of Fiskars Telescoping Rotary Cultivator is the telescoping handle. It can be moved from 40 to 60 inches in length. This allows you to till the soil gently without having to kneel or bend your back.
The wheel in the center of this fantastic handheld tiller can be removed as well. This upright model allows you to till the soil around underground pipes, newly planted seeds, or seedlings while avoiding upsetting the plants. Many other tillers aren't developed enough to work with new plants without causing disruption.
The craftsmanship of this hand tiller is of exceptional quality, and only long-lasting materials are used. As a result, each purchase includes a lifetime guarantee. If any of the parts break or get damaged, you can get a free repair or replacement.
The hanging loop on the end of the telescoping handle makes it a simple matter to store the tiller. When not in use, put it on a hook in your garage or shed. It's a fairly subtle hand tiller, which is excellent because you won't be using it all that often.
Pros
Telescoping handle with adjustable height to dig holes comfortably
Multifunctional; Excellent for loosening and aerating the soil, removing weeds, and mixing mulch
Sturdy construction with rust proof materials; suitable for tough soil
Removable center wheel to keep new plants safe
Easy to use; does not require lots of strength or bending
Lightweight design with strong FiberComp head and all steel tiller shaft
Cons
The handle design might be inconvenient and uncomfortable for some users
A bit expensive
The Flexrake CLA105 hand tiller is an incredible tool that combines superb craftsmanship and high-quality materials. As a result, expect it to be one of the most important tools that will not let you down once you get to the garden.
For long-lasting performance, this hand tiller has a double-sided high quality carbon steelhead. Thus, it will provide you with the best value for your money. The dual-sided design of the high quality carbon steel blade increases the force of your strokes, resulting in amazing digging strength with minimal effort.
Aside from digging, this handheld tiller may also be used for planting seeds and weeding in the garden. In a nutshell, if you're searching for a hand tiller with a lot of versatility and benefits, you don't have to look any further.
The solid oak wood handle is extremely sturdy and will not break, unlike some of the lower-quality handles on the market. The non-slip rubber grip on the handle suggests that this tiller has the ideal ergonomic design that won't easily slide off your grip.
Most people appreciate that the hand tiller is well-balanced and has the ability to prepare the soil for long periods with minimal fatigue.
Pros
Ergonomically designed wooden handle that's durable
Requires minimum care
Easy to use as this hand tiller is well balanced and causes minimal fatigue
Double sided high quality carbon steel head for versatile use
Very comfortable rubber grip
Cons
Handle length might not be ideal for some users
This is another amazing tiller with a rotational design. It includes a telescoping handle that can be changed from 40 to 60 inches, much like the previous rotational choice on the list.
The design of this hand tiller is entirely built of metal, with no use of plastic in the framework. This makes it strong enough to last for many years. The plastic carries possibilities of freezing and breaking.
This hand tiller has a wide range of practical applications. It can be used for any type of soil tilling. This handheld tiller is popular among contemporary gardeners and landscapers for loosening soil and preparing flower beds.
The metal components of these handheld tillers are made of hardened stainless steel and lightweight aluminum. These materials are rust-resistant, so you won't have to worry about them getting exposed to moisture.
Each spike of this steel tiller measures 1.5 inches in length, allowing for deep penetration and movement beneath the surface when they rotate, rake and blend.
You can also remove the center wheel and make adjustments to the outer wheels. This enables you to adjust tilled widths around new growth. You can still till the soil after your initial planting if you need to!
Remember that the wheel of this hand tiller is designed to churn above the earth. Hence, the adjustable tines will only pierce the top two inches of compacted soil on your garden bed. If you need to reach more depths, you'll need to use a heavy duty tiller beneath the surface.
Pros
A perfect choice among affordable options
Comes with scissor spinning tines which are adjustable and suitable for rocky soil
Sturdy construction with hardened steel and aluminum but no weak plastic
5 inch long spikes on wheels for deep cultivation and aeration of garden beds
Adjustable telescoping handle and the removable middle wheel
Cons
Not convenient for digging deeper than the top 2 inches of compacted soil
The Garden Claw Pro from Garden Weasel is a great hand tiller for small spaces.
This is a hand-operated tool; expect to do all the work on the raised beds. Consider other options if you have a wide area to cover. But if you need help with removing soil in a tight spot and supply muscle force, this handheld tiller is a great choice.
Garden Weasel Claw Pro hand tiller has four steel tines and a long handle. They have three settings to cover the crop. The largest setting is for tilling, the middle one is for cultivating, and the smallest setting is for weeding.
The 38 inch heavy-duty carbon steel handle of this tiller will not easily bend. It also has an excellent rubber grip on the T handle.
This hand tiller is a simple tool that arrives assembled. You won't have to spend hours reading a lengthy manual to get started. After usage, just rinse the tines with a garden hose. In addition, it takes up less space than a stand-alone tiller. It will take up little space if hung in your shed.
This hand tiller won't work if you need to till a large area, like more than a corner or between two rows of plants. It'll require too much work, and your hands will be blistered!
However, it is a wonderful and affordable alternative for aerating soil in awkward spaces.
Pros
Sturdy construction with durable carbon steel material
Fully adjustable tines with three settings
Easy to use with comfortable grip handles
This perfect tool features multi-purpose use with CLAW design- cultivate, loosen, aerate, and weed on a raised bed or lawn
Comes fully assembled and with a lifetime guarantee
Cons
Not suitable for larger spaces
Yard Butler optimizes everything good about gardening tools. This is abundantly obvious with this great tool.
Yard Butler Twist Tiller is quite well-made. It has an ergonomic design with a 12-inch grip that reduces twisting strain. Yard Butler Twist Tiller is made of steel from head to toe, so don't expect any broken pieces anytime soon.
The claws of this Yard Butler hand tiller are designed to be efficient on raised beds. With a few twists, you'll have transformed hard ground into loose soil. With the wide footplate of Yard Butler Twist Tiller, you'll be able to put your body weight into the hard terrain gently.
An avid gardener will notice one thing about this Yard Butler hand tiller as soon as they touch it. The padded grip isn't exactly slick; they're slightly textured. This will give your hand an abrasive, coarse feel, further securing your grasp. You won't have to be concerned about your hand slipping anytime soon.
Now it's time to get your height measured. This 36-inch Yard Butler hand tiller is a good fit for the majority of folks. However, if you're a little taller, hunching down for so long may cause back pain. In this instance, you should try to find other hand tillers that are more in inches.
Despite the short stature of the Yard Butler tiller, its power compensates for its lack of height. This tool works well for almost anything. Loosening hard sections of the ground will no longer be an issue.
Pros
Incorporates a wide footplate with curved tines
Excellent tiller for loosening, turning, and aerating hard and rocky ground
A height of 38 inches with a long 12 inch T handle enables easy use
Ergonomic design that reduces the effort of twisting
Perfect size for flower boxes, raised beds, around bushes and shrubs
Makes weeding and mixing fertilizer or manure easy
Cons
The height might not be comfortable for a taller user
Another tiller with a simple and easy design is the Edward Tools Hoe and Cultivator Hand Tiller. But there's nothing wrong with simplicity, and this tiller offers several features that any handyman will appreciate.
The carbon steel blade of Edward Tools Hoe and Cultivator Hand Tiller is strong and long-lasting, allowing this dual-head hand tiller to survive the test of time without breaks.
The ergonomic rubber handle of this tiller is also comfortable to hold and control while supporting you in maintaining strong grips. The solid oak construction adds to the durability, and the lifetime warranty should provide you with a lot of peace of mind.
Pros
Ergonomic rubber handle allowing a good grip
Sturdy and durable steel construction
High quality carbon steel blade and two-sided head
Solid oak wooden handle
Comes with a lifetime warranty
Cons
The tiller is not well balanced
The DeWit 5-Tine hand tiller is our recommendation for the best premium option if you're ready to spend a little extra money. You can tell right away that this is the best hand-held tiller in the marketplace just by looking at it. On Amazon, it's a best-seller that may be used for delicate as well as demanding chores.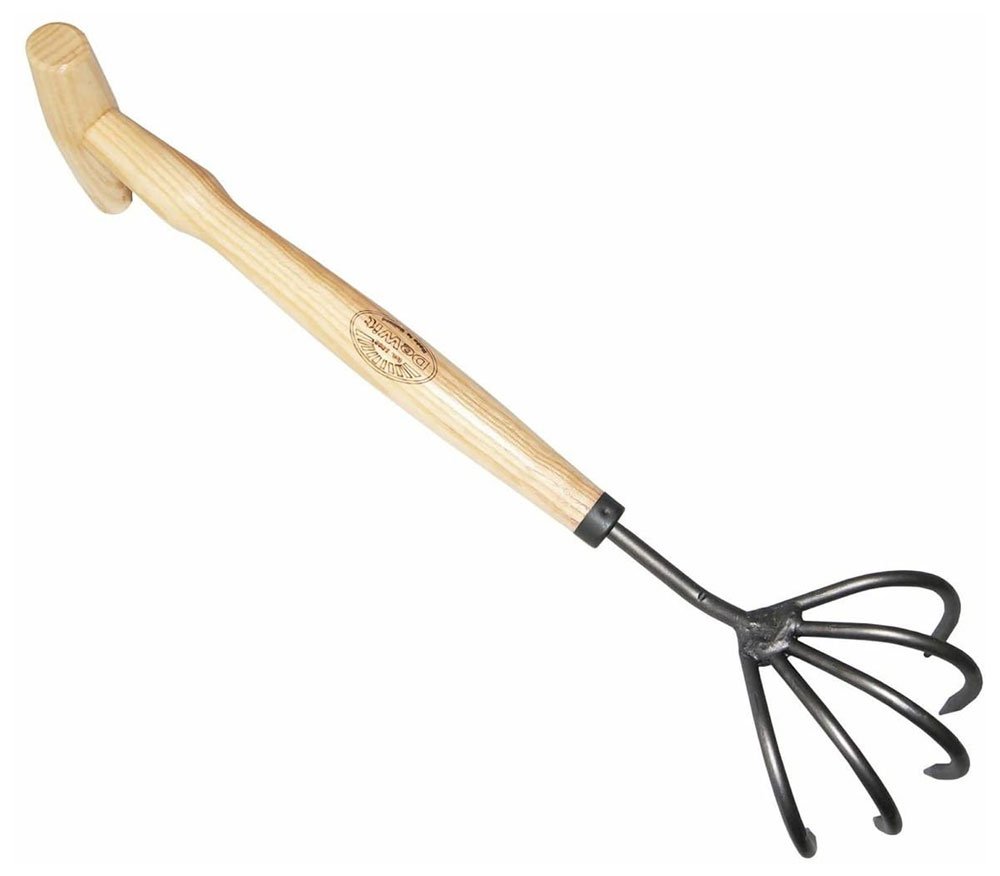 When working with dirt, using five tines instead of three gives you a wider range of options. You can get into tighter gaps between plants with the three-tipped version's thinner blades. The 5-tined tiller, on the other hand, maybe more effective if you've determined your planting spacing ahead of time. You can already aerate two times as much space with only one strike of a 5-tine tiller compared to a 3-tine cultivator.
The DeWit short-handled, 5-tine hand tiller weighs only 0.5 lbs or 8 ounces, making it easy to grip. This implies that you can labor in the garden for long periods of time without straining your arms.
This short-handled hand tiller can easily get into tight spots in your garden because it is designed for one-handed use. Tossing soil with a long-handled tiller is convenient, but this gadget takes you right up to your plants. Getting your hands dirty is necessary if you want to examine what's going on beneath the surface of your plants' fresh leaves.
Its ergonomic P grip handle and short handle make it easy to hold for extended periods of time. Hardwood from FSC-certified forests was used to make the ash handle.
The producer of the DeWit 5-Tine Short-Handled Tiller is so confident in their product that they are willing to offer a lifetime warranty. Even if you find this hand tiller to be long-lasting, the manufacturer guarantees customer service in the event that you have a problem with your product.
Pros
Claws made of sturdy boron steel
Beneficial to the environment
Built in a basic style with minimal ornamentation
The ergonomic design of the T-handle
Good for soil aeration
High-quality materials and workmanship
Design with a wide range of applications
Lifetime warranty
Cons
On compacted soil, it is less effective
Strain may result from a short handle
Types of Hand Tillers
In general, all different hand tillers work on a similar principle. There is a handle on one end and a claw on the other. Prongs, or tines, protrude from that claw, ranging in number from two to six depending on the model. These are the most crucial components of the hand tiller.
These useful gardening tools are great for getting rid of bothersome weeds and aerating the soil as well. This is when you give nutrients and fertilizer to the region around the base of your plants by fluffing it up.
Electric and gas-powered hand tillers are available if you don't want to do any manual labor. Continue reading to learn more.
i. Electric
An electric engine is used to power electric hand tillers. Simply connect it to the tiller and begin tilling. Most tools of these versions are quiet and energy-efficient, making them appropriate for a better job in most home gardens.
Their biggest disadvantage is that they will only let you go as far as their cord will allow or until the battery dies. Furthermore, they lack the power of gas-powered tillers.
ii. Gas Powered Tiller
Gas power tillers are available in a variety of sizes. They might be as little as a two-cylinder engine or as powerful as four-stroke engines.
On a full tank of gas, a gas power tiller may function for a long period. These tillers are quite strong and are used in large areas.
Their disadvantage is that they can be quite noisy. Before purchasing a gas power tiller, make sure to check your city's regulations.
Another point is that they also require more maintenance and care compared to other types of tillers.
iii. Short vs. Long-Handled
You must get down on your hands and knees while utilizing short handled hand tillers. After that, push the tiller into the earth with your hand. To remove weeds, plant seeds, and other garden detritus, simply twist the hand tiller. These smaller-size tools operate best in small areas with shallow soil.
However, some users prefer long-handled hand tillers to short-handled tillers for other areas. Long-handled tillers or shovels, for example, can help reduce back strain.
Furthermore, long handles provide extra leverage, which is one side of their best features. Simply set your foot on the top of the claw, then lean on the platform and drive the tiller into the ground with your full weight for a large role.
Long-handled hand tillers are perfect for big regions and areas with deep soil. Also, if you can't kneel when working in the garden, they can be more comfortable.
Buying Guide for The Best Hand Tiller
Finding the perfect hand tiller can be challenging, which is why we've done some research and reviewed some of the premium options. Here are some key aspects to look for while purchasing a hand garden tiller to make things even easier for you.
Length
Length is a crucial feature to consider before purchasing hand tillers, depending on the gardening task you plan to accomplish with them. Choose a hand tiller with a telescoping handle or a long handle with the ideal length if you need an all-purpose tiller for your garden, landscaping, and garden beds.
In contrast, if you need a tiller for potting plants and tilling/digging in flower boxes or garden beds, a shorter comfortable handle is your best bet to penetrate such shallow soil.
Weight
Suppose you have a bad back, sore knees, or otherwise struggle from heavy machines. In that case, a smaller, lightweight, telescoping hand tiller should be your first choice.
Heavier hand tillers usually give better results for people who don't mind carrying a decent amount of weight because they have greater force.
Soil Type
You should inspect the soil quality of your garden before browsing through different tillers. A hand tiller designed for residential usage and light work will function effectively in a garden with soft soil. A heavy-duty hand tiller is required if the soil contains a lot of clay or is rough.
Regardless of the soil type, choose a durable, sturdy, and heavy-duty tiller if you need a tool for commercial agriculture purposes.
Tines
The tines, often known as prongs, are the most important portion of hand cultivators. The number of prongs on a tiller determines how powerful it is. In addition, the length of the tines determines how far into the soil the tool may reach in a single stroke.
The majority of tillers have four or five prongs. For added efficiency, some hand tillers have claw-shaped prongs.
Material
Material is crucial in determining how long a tool can properly serve you. A top-notch hand tiller is built of material that is sturdy, rust-resistant, and long-lasting. Carbon steel, stainless steel, aluminum, or boron steel make the majority of high quality hand tillers.
Furthermore, some hand tillers are made of heat-treated materials for added durability while in use.
Handle
Another important consideration when purchasing a hand tiller is the handle. Make sure you pick a tool with a well-designed ergonomic handle. It should also be simple to handle without the risk of losing grip or suffering serious injury.
A good tiller handle is constructed of rubber, wood, or other comparable materials that provide a firm grip and comfort while gardening. As a result, if you use hand tillers with good wooden handles, you can forget about weary legs and arms. We recommend a high-quality steel or fiberglass handle for heavier tools.
Adjustability
A hand tiller with adjustable tines will be more useful in your garden because it will be able to work with a variety of garden sizes and accomplish more chores.
In addition to adjustable tines, some hand tillers offer a feature that allows the height of the tiller to be modified to meet the gardener's physical needs.
Versatility
Most hand tillers appear to be rather basic at first glance. In comparison to your more powerful power tools, these are simple tools. They do, however, have one thing in common with your power tools: you want a tiller that can perform several tasks.
That is why hand tillers require so much versatility. You can choose a tiller that is suitable for the only thing (weeding, for example). But why would you do that when you can have a hand tiller that can aerate, loosen your soil, cultivate your lawn and mix mulch?
Ease of Use
In your garden, you might be a seasoned "green thumb." It's also possible that you're just getting started. However, both types of people should seek the same thing in a new hand tiller: ease of use around crops.
How simple is it to operate hand the tiller? And how likely is it to result in back discomfort and muscular strain? This is usually determined by criteria such as the height of the handle, the shape of the tines, and the number of varied options the top-of-the-line hand tiller offers.
Cost
The hand tiller you get will be determined by the amount of money you're willing to pay. To be honest, if you want a high-quality hand tiller, you'll have to go a little more if you want the finest tow-behinds.
However, if you're on a tight budget, this doesn't rule out the possibility of finding an option with a low price.
Warranty
Don't forget to examine the warranty duration specifics when choosing a hand tiller for your garden. Most companies offer a lifetime guarantee; however, some may only offer a limited warranty period.
A warranty policy guarantees the quality and usefulness of the tiller. It also makes it easier to seek a refund or a replacement if the tiller is damaged when it is delivered.
Hand Tiller Maintenance Tips
Regular cleaning will surely extend the life of your tiller. After each tilling operation, turn it over and clean it.
A gas tiller's engine oil should be changed at least once a year. Also, check the engine oil level before each use.
After each use, check and clean the air filter. Replace the air filter if it's dirty.
How you keep your hand tiller during the winter affects how well it works for fall and spring tilling. Keep it dry and out of snow. Drain the fuel tank. Let it run out of fuel.
Keep an eye on the tires to ensure they are properly inflated. Tighten every nut and bolt.
After a long time of hard work of tilling around weed seeds and soil, regularly check the tines for sharpness. To improve performance, invest in new tines.
Conclusion
A hand tiller is one of the most useful tools for exactly what you're aiming to do, whether it's simply aerating your garden or weeding out any unwanted sprouts.
In this article, we've looked at some of the best hand tillers on the market right now. While any of these hand tillers will do the job, the size and type of garden you have should ultimately determine the product you choose.
We hope that this article has helped you make a more informed selection which will save your money– and that your garden has become a little brighter as a result. Don't forget to check out our other related posts, leave comments, and reach us with your queries (data protected by our privacy policy).
Good luck with your tilling!
FAQs
Are hand tillers worth it?
Ans: Hand tillers make loosening the soil around grass or weed roots much easier. This makes it simple to remove weeds. They can also readily break up the soil for planting or modifying.
Can I use my hand tiller on tough soil?
Ans: It is more difficult to till hard soil when it is dry, but it is also harmful to the soil. The hand tiller's tines will split the soil into fine dust or clumps, increasing the risk of wind or water erosion.
How can I make my hand tiller last longer?
Ans: Even if you have a rust-resistant hand tiller, the weather might still harm it over time. It's a good idea to wipe clean the tiller after each usage to remove any dirt or moisture. You should also keep it in a dry location, such as a shed or garage. If at all possible, keep your hand tillers off the ground.
Finally, it's a good idea to be aware of your tiller's limitations. It can break if you use it with too much pressure on the handle.
Is there a risk of damaging the roots of the plants in my garden while using the hand tiller?
Ans: If you use your hand tiller too close to your plants, you will almost certainly damage them. Keeping a safe distance allows you to be more confident that you aren't harming any existing plants.
What is the easiest tiller to use?
Ans: Electric tillers are lighter, easier to use, and require less maintenance than gas tillers. Motorized tiller is available in cordless battery-powered variants as well as plugged-in devices, limiting your range of use.
What is the most reliable tiller?
Ans: Yard Butler Twist tiller with ergonomic design and a step plate at the center