Establishing a veggie garden, a patio planter, or a flower bed is a great way to decorate your home and have fun at the same time. If you don't have enough space or enjoy spending your time indoors, you may not be able to enjoy the outdoors as much as you would like. Gardening in an apartment is a difficult undertaking because of the lack of natural light and space.
You're in luck because there are endless ways to grow plants in a little space. There are a lot of folks out there who have already found out how to maximize your garden area most creatively and aesthetically. We've put up a list of some of the best apartment gardening ideas below.
Let's get to work, shall we?
Apartment Garden Ideas
Find inspiration for your own apartment garden in the following ideas and enjoy all the perks of being surrounded by greeneries.
A Privacy Wall with a Vertical Garden
Making the most out of vertical space is essential for urban life when space is an issue both indoors and outdoors. You can use wood or metal planks and slabs to create a plant-filled privacy wall from scratch. Alternatively, you can get beautiful vertical garden structures on online marketplaces to create the same effect.
Wall and Floor Planters for a Decorative Corner
When paired with squared containers in complementary colors, ferns against a geometric textured wooden panel wall look stunning. Bring your wooden furniture and decorative cushions and pillows into harmony with a comfortable shag rug.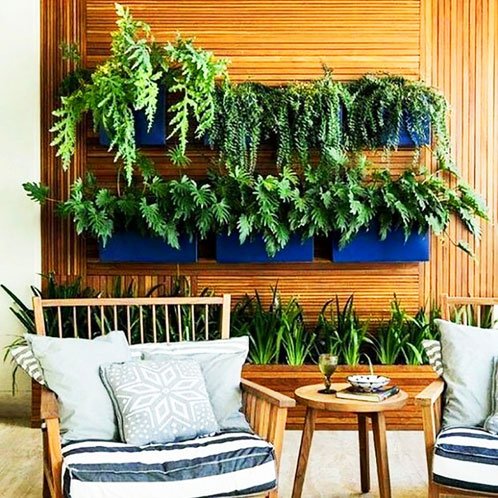 Similar Size Collection
A small group of medium-sized plants can be used to fill in a void. Although they're a bit larger than a typical succulent display, these plants don't require the same level of care as a large indoor tree. Place them in a corner, under a window.
A Small Outdoor Corner
The colors and patterns of your container garden's blossoms might be used as inspiration when designing a tiny outdoor corner. Make sure to use planters of varying heights and place a garden stool or small lounge chair to enjoy a summer afternoon with a cup of coffee. You can also add a small patio table beside it.
Balcony Railing Hangers for Vegetables and Herbs
Sometimes, you just want to plant some herbs or vegetables and not care about the aesthetics. A fantastic approach to maximize the space on your balcony is to use containers that can be attached to the rails.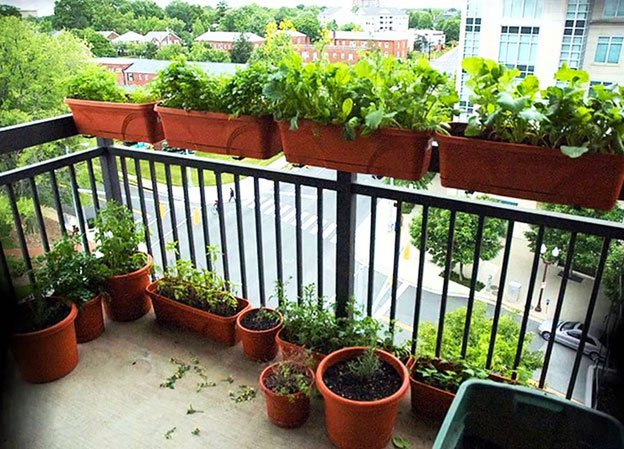 Pots with Dwarf Roses
Containers filled with patio, dwarf, or miniature roses can be used by urban inhabitants who have access to a balcony or terrace that gets at least five to six hours of sunlight each day to have colorful blooms all summer.
Making a Wall Display of Succulents
A beautiful cactus and succulent garden can be built with just a few simple wooden board shelves and a short ladder. The whole picture will come to life if you arrange it with clay pots in front of a brick or stone wall.
Windowsill for Strawberries
Strawberries don't require a lot of outside areas. A sunny windowsill can provide a season's supply of delicious strawberries for crowning yogurt or salads or stuffing pies, crisps, or cobblers, and other desserts throughout the year.
Vintage Indoor Garden Corner
You can create an eye-catching display in any room of your house by mixing and matching different kinds of plants and containers. The combination of old canisters, handcrafted pots, and antiques works wonderfully.
Repurposing Sandboxes
Put that old sandbox to good use by transforming it into a fascinating, kid-friendly garden filled with nutritious fruits, herbs, and vegetables that kids will enjoy planting, nurturing, and then tasting.
Hanging Garden on Balcony
The mix of ivy and vines growing up the walls and flowering through the rails of your balcony creates a stunning effect. Choose brightly colored flowers in this case.
Selecting Shrubs for Container Gardening
For container gardening, it's critical to think about the mature size and rate of growth of a plant before making a selection. Like Japanese Pieris 'Flamingo', slow-growing plants that keep a compact shape are perfect. Even the tiniest of outdoor spaces can benefit from this shade-loving shrub's dark leaves and clusters of pink blooms in early spring.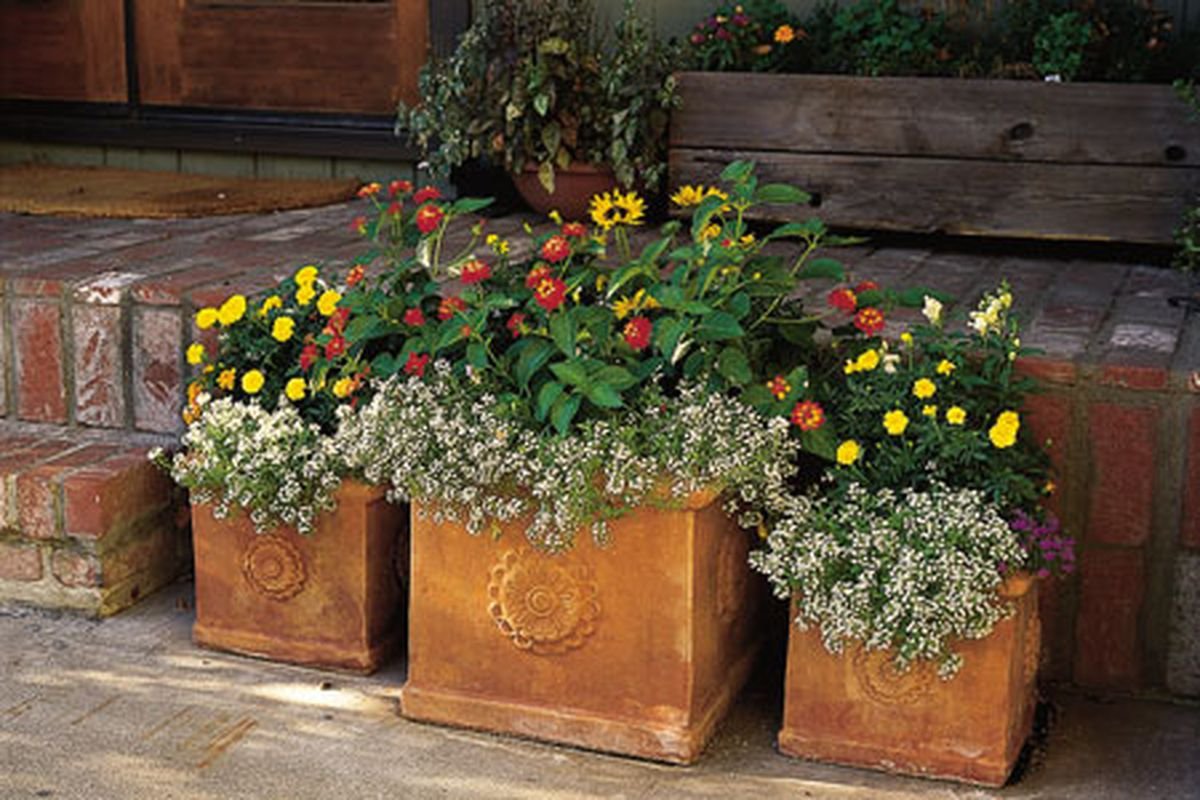 Terrarium Garden
One can have a beautiful indoor garden without going overboard or taking up a lot of room. If you have a couple of glass display cases and a few of your lovely air plants or succulents, you can create a miniature plant world in no time.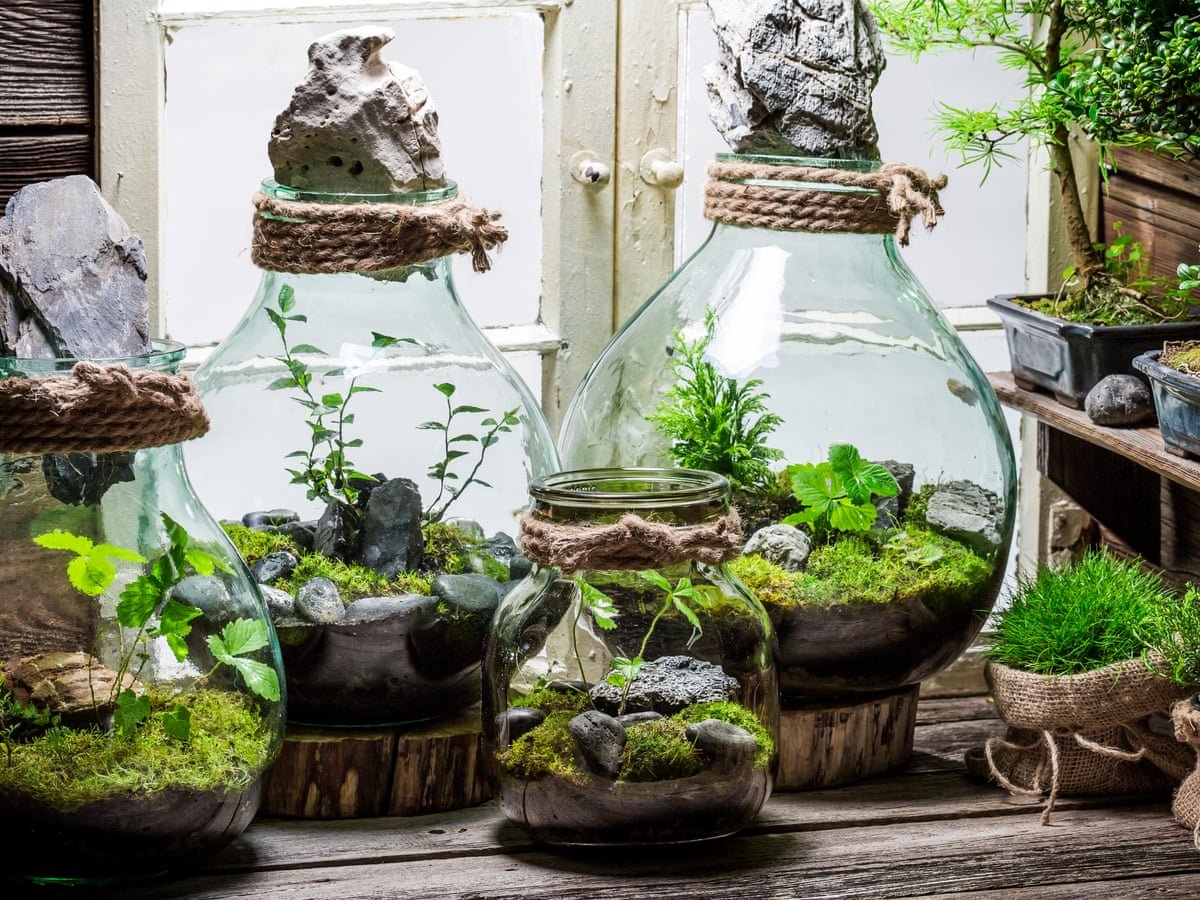 Mason Jars as Herb Containers
There are various ways to grow herbs in your apartment, such as this one. The appeal of these approaches is that you can identify them all while also using them as wall art.
Palm Planting
Tropical flair and privacy are both enhanced by palms, which add lush foliage and sculptural leaves to any outdoor spot that is shaded (direct sunlight will burn them). However, because these plants are native to the tropics, they are vulnerable to damage in colder climates. Because of the ease of container planting, they may be kept year after year for a continuous supply of colorful fronds within.
Containers Built against Patio Walls
To create a peaceful outdoor space, you can build containers against the patio walls of your apartment complex using pallet wood. Leaving it for the next tenant is an option if you do it correctly.
Repurposing Fireplace
Your artificial or non-working fireplace's surroundings and interior will enhance the effects of colorful plants. While this isn't an ideal display for the cold winter months, it's perfect for the bright spring and summertime when the fireplace isn't being used.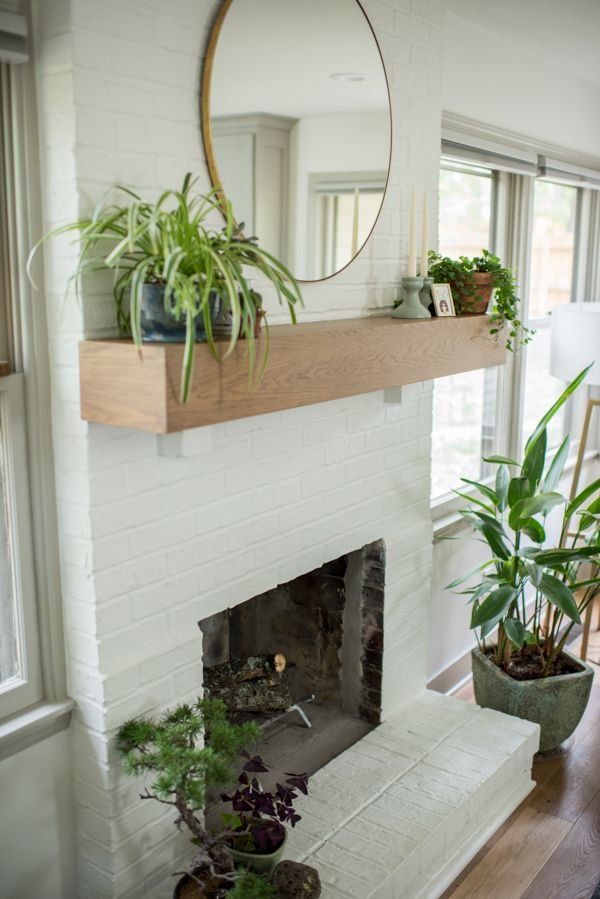 Multi-Level Planters
It's easy and fun to get creative with a homemade plant stand.  Choosing glazed pots and coloring the wood to your whim can make your space and wall pop out.
Low-Maintenance Topiary
Is your container collection in need of some fun? Then this idea is for you. Adding a tropical flair to your entrance or back patio planters is as simple as covering a plastic flamingo with fake boxwoods. The best part about this clever topiary is that it requires minimal upkeep to maintain its whimsical good looks.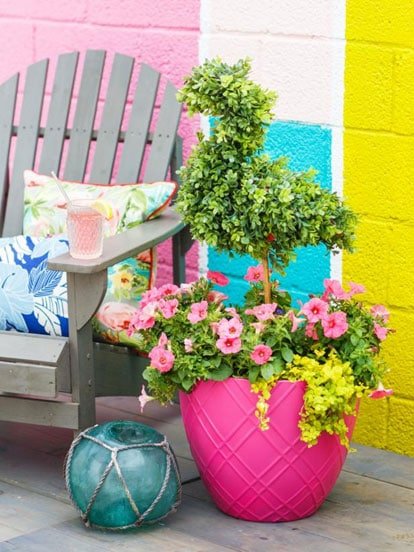 Kitchen and Bathroom Garden
You don't have to restrict yourself to herbs when it comes to growing plants in your kitchen. If you have a lot of space on your kitchen counters, consider allowing other decorative plants to fill it up.
Whether you place a few on a shelf, suspend one from the roof, or hang one over the showerhead, your bathroom may be a beautiful place to keep plants as well.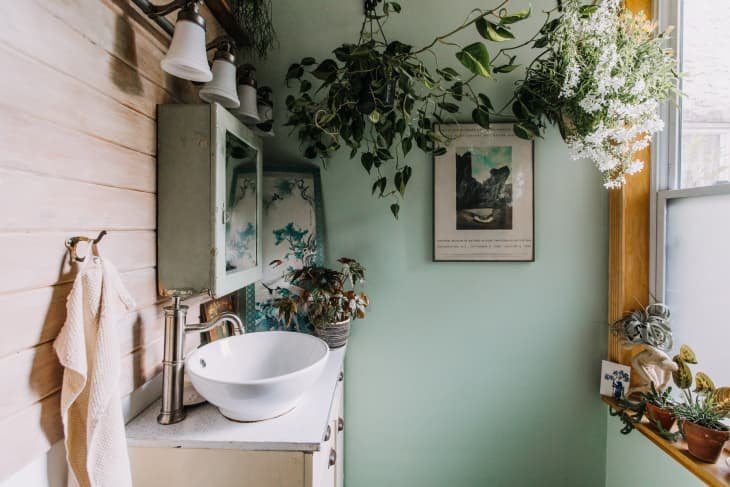 Planting behind Patio Benches
In our opinion, this is the coolest patio garden design. Rather than purchasing new containers, you can just recycle patio furniture (such as benches) as the front wall. Large bushes and even medium-sized tropical trees can be grown in this amount of soil.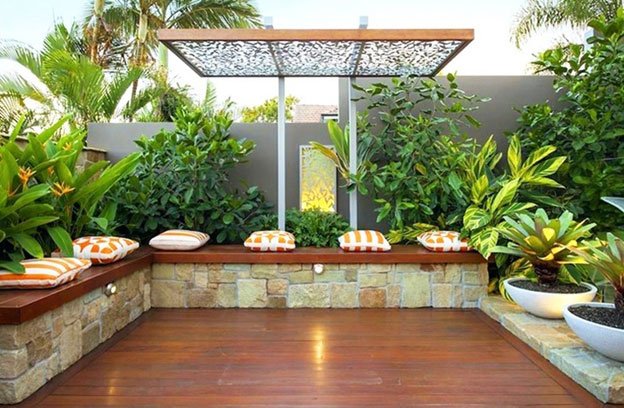 Repurpose the Containers
Add some color and texture to your small garden space by filling an empty can with an attractive potted plant. Before placing the plant in the container, use a hammer and nail to make holes in the bottom for drainage.
Final Thoughts
Taking good care of plants is a great way to exercise both your mind and your body. The ability to exercise critical thinking is enhanced when you spend your days taking care of plants. Stress and worry are alleviated as well as your ability to focus and eat a better diet, and you save money along the way.
Gardening in an apartment might be a time-consuming endeavor, but it isn't something you need to be concerned about too much. You'll notice real development gradually if you start simple and build on it as you go!